Central Arts in the Community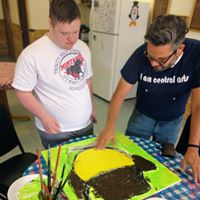 Central Arts helps bring art to the community beyond the doors of our galleries.
We make a point to be present at local business and community events to inspire others to appreciate or participate in creating colorful pieces. Whether it is live painting to benefit local nonprofits, or having fun with the kiddos at The Clubhouse for Special Needs, our passion is to share art with others.
COMMUNITY IMPACT
The Central Arts of Bedford is a great grass root community network providing a venue for local artists art work and performance to showcase and perform. The center is a creative outlet for film and music and art. For me. It was reminiscent of Deep Ellum in the late eighties and early nineties. Also, reminded me of early Bishop street in oak cliff Dallas and Greenville avenue. It was refreshing to see that the spirit of creative is still alive.
---
Central Arts of Bedford is a great addition to HEB. We've been needing a place where eccentrics, creatives, and various nerds can come be themselves! Great gallery for upcoming as well as professional artists. Fun for the whole community!!
---
I love this gallery and have quite a bit of work displayed there! It may be small but it is well run by great people! There are many talented artists whose work calls this gallery - home! I would highly recommend it as a gallery worth checking out at any time but especially on show days which happen every couple of weeks! Thanks Sergio for bringing us into the fold!
---
Loved this place. Casual, comfy, family friendly and the people there are awesome. My 12 yr old granddaughter had so much fun and is excited about re-visiting in the near future.
---
Fun regional gallery operated by some guys who clearly love art, artists and the local culture. Stop by and check out the local Bedford art scene.
---